Greater Akron Chamber H. Peter Burg Award
The tone for the night was set when sixth grade Akron I PROMISE Network (AIPN) student Christian Presutti and eleventh grade 330 Ambassador Maya Frazier took the stage to announce the 2015 Peter Burg award recipient:
It is impossible to measure the huge impact Mr. LeBron has had on the Akron community. Not only is he one of the most talented and accomplished basketball players in the world, but more importantly, he is a tremendous leader and role model for all of us kids from Akron. He has given so much back to his hometown, and he's bringing all of us up with him. He has put our city, and all of us in it, on the map. - Christian Presutti, Opening Remarks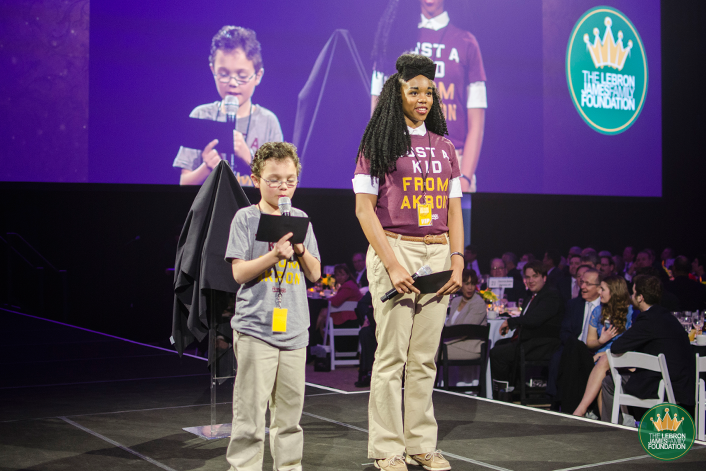 As Christian's strong and crisp voice trailed through Historic Goodyear Hall's capacity crowd, Michael Jackson's "Heal the World" began to play. Scores of AIPN students and 330 Ambassadors filed down from their VIP seating on stage next to LeBron, out onto the hall's main walkway. LeBron sat proudly engrossed in the moment, looking around at his kids and his family.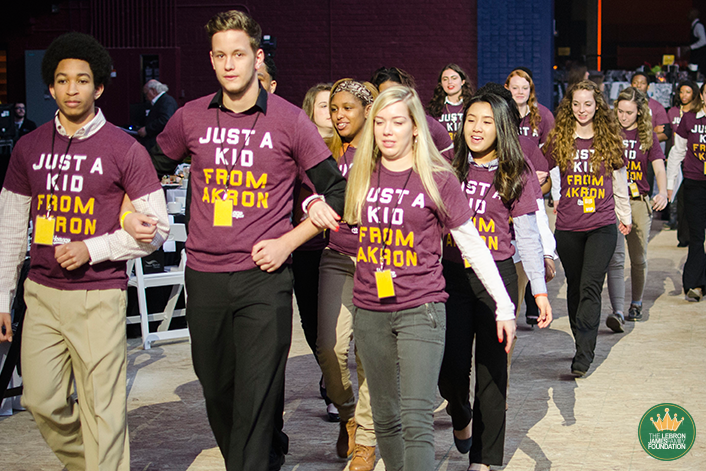 Maya continued on with their introduction, "For all of these reasons, it is my honor to invite Mr. LeBron James, Just a Kid from Akron, the 2015 Peter Burg Award recipient, to the stage."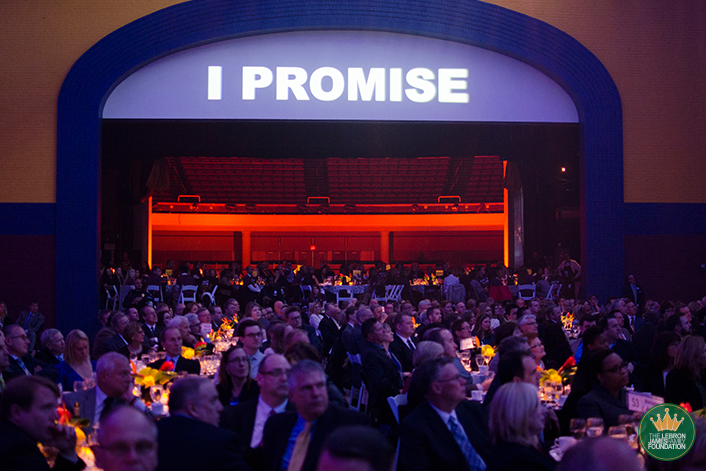 LeBron stood from his table where he sat surrounded by his family, friends, mentors and closest partners. The music played, buoyed by a thunderous ovation, as LeBron linked hands with his sons and proudly strode down the aisle way. He was met by his AIPN students and 330 Ambassadors. Shoulder to shoulder, the kids from Akron proudly marched to the podium.
LeBron accepted the award surrounded by his boys, Bronny and Bryce, his 330 Ambassadors, and his AIPN students. Looking directly at his kids, LeBron delivered a personal message, "I PROMISE to continue to be an inspiration, not only to my boys and my daughter, but to these kids." He paused momentarily and looked down at his wrist where he found his daily rubber reminder, "I PROMISE."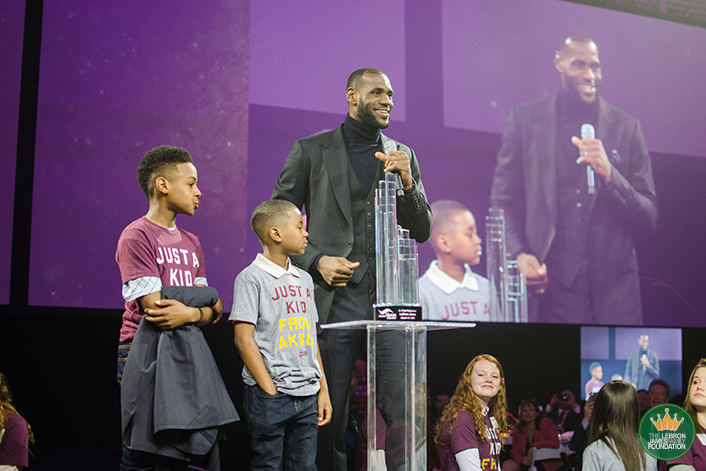 While the City of Akron and the Greater Akron Chamber were recognizing the man, LeBron's guests were paying homage to the boy they watched grow before their eyes. In the most literal sense, LeBron's family, friends, partners, and children all wore their pride on their sleeves as they debuted the "Just A Kid From Akron" t-shirt. The t-shirt was developed in partnership with Northeast Ohio's own home grown specialty clothing company, Homage, with a portion of the proceeds from each sale directly benefiting the LeBron James Family Foundation.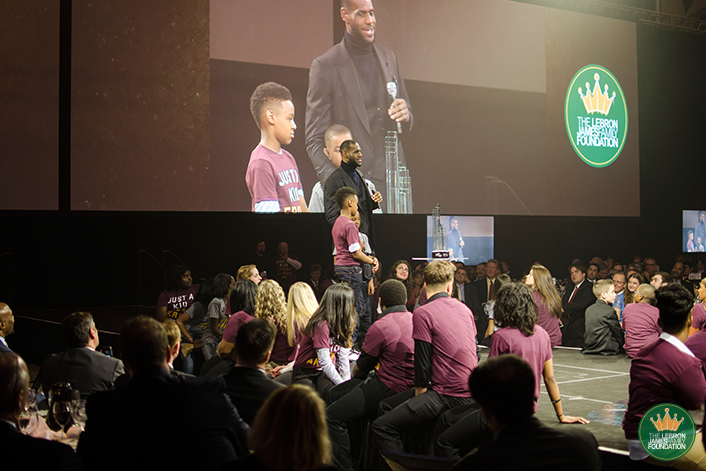 As the room sat captivated, LeBron thanked everyone who has helped him along his journey, "You guys have seen me grow from an eight-year-old kid who first played basketball, to a 15-year-old kid on the cover of Sports Illustrated, to the 18-year-old kid drafted into the NBA, and now, a 30-year-old man with three kids and a beautiful wife."
LeBron then finished the same way he began, marching out arm-in-arm with the kids from Akron to a raucous ovation.