As the I PROMISE 11
th
graders stepped off the yellow school buses, they had no idea what was in store. On Kent State University's campus for a full-day of college immersion through one of the Foundation's monthly experience outings, they believed they were in for a fun, educational day in the life of a Golden Flash. Their excitement level immediately lifted upon entering the signature KSU Golden Flash Tunnel typically reserved for football games. When they filed into the auditorium, they remained upbeat but unsuspecting. Meanwhile, they had no idea that some of their equally unsuspecting parents were also in the next room, watching things unfold on a large monitor.
After a few motivational words and the customary reciting of the promise, Kent State's President, Todd Diacon, took the mic and delivered instructions that would change the lives of LeBron's original class of 3rd graders forever. Following his direction, the students reached under their seats to find an envelope full of promise. As they read and heard the words,
"Kent State guarantees your tuition will be FREE for four years plus free room and meal plan for your first year,"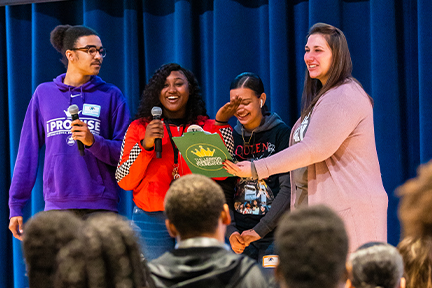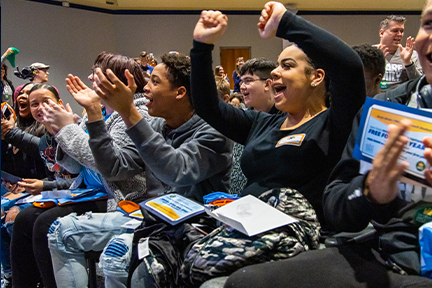 a silent disbelief filled the room. Before long, the quiet was quickly replaced by joyful cheers and tears. Students, knowing they would now have options when it comes to their next educational step, began to high five and hug each other. I PROMISE parents in the next room used the provided rally towels to wipe away grateful tears.
This moment, and this life-changing opportunity for these 11
th
graders is possible because the Kent State community believes in LeBron's kids. And because they are family. Having welcomed our students with open arms the past two summers with ACT prep and overnight summer camp experiences, this was an extension of KSU's commitment to action and investment in our kids.
Everything is earned, not given, so these students will have to work diligently to meet the eligibility requirements for this opportunity. But we know with Kent State and our other partners in their corner, anything is possible. They are the stewards of their futures that can now include college, once a far-fetched pipedream for many of our I PROMISE students.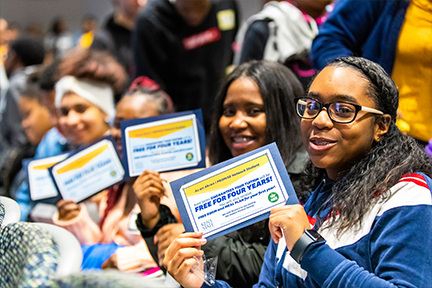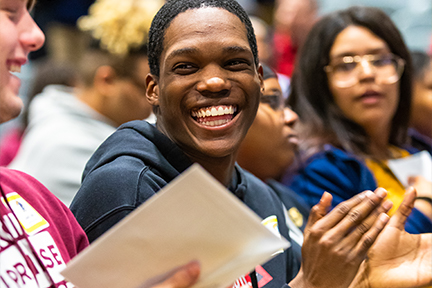 We are so grateful to Kent State for welcoming the I PROMISE students into the Golden Flashes family. The life-changing gift of higher education is a game changer for our kids and families in Akron.