J. Walter Citizenship Award
As the NBA season winds down, the annual litany of awards honoring players' on-the-court accomplishments gets underway. But there's one award that stands out from the pack by focusing on something bigger than the game alone. The J. Walter Kennedy Citizenship Award recognizes the NBA player, coach, or athletic trainer who shows outstanding service and dedication to the community. Voted on by the Professional Basketball Writers Association (PBWA), the award has become the league's most prestigious prize for players' off-the-court contributions to their communities.
After more than a decade of dedicated service to the youth and community in Akron, LeBron James was named this year's J. Walter Kennedy Citizenship Award winner. LeBron humbly accepted the invaluable hardware prior to game three of the Eastern Conference Finals at The Q as the hometown crowd showered him with a raucous applause of appreciation.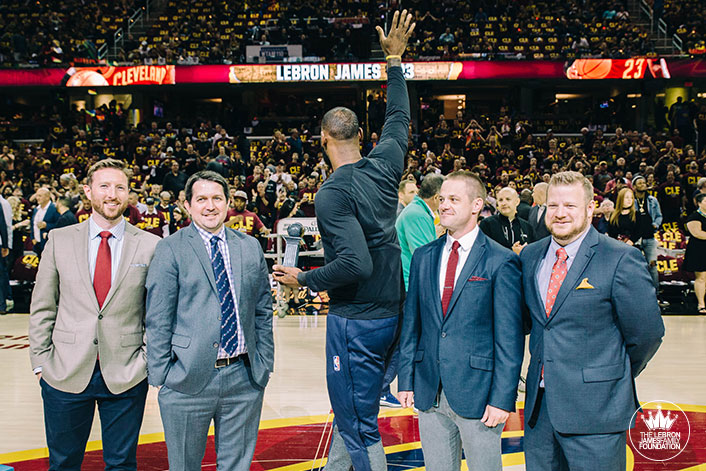 The award specifically recognized LeBron's commitment to improving the educational opportunities of disadvantaged youth in Akron and creating long-term change in his community. From regularly interacting with his students through encouraging calls, letters, and messages to establishing the I PROMISE Institute at The University of Akron and the Hard Work Club in all APS schools with no after school programming, all the way to announcing a brand new Akron Public School for his kids, LeBron's Foundation continues to have a tremendous impact.
"LeBron James' efforts to help young people are exemplary," said PBWA President Josh Robbins of the Orlando Sentinel.
For LeBron, his biggest mission is driven by his desire to create long-term, meaningful change in his hometown that will have a ripple effect for generations to come.