PROMISE Project Take 2 | Week 3 Part 2
As the day continued for the third weekend in this year's PROMISE Project, St. Vincent-St. Mary High School (STVM), Akron General, Brunswick Insurance, and Thomas Limo took to the streets to pump up and bring the noise to a day of renovating.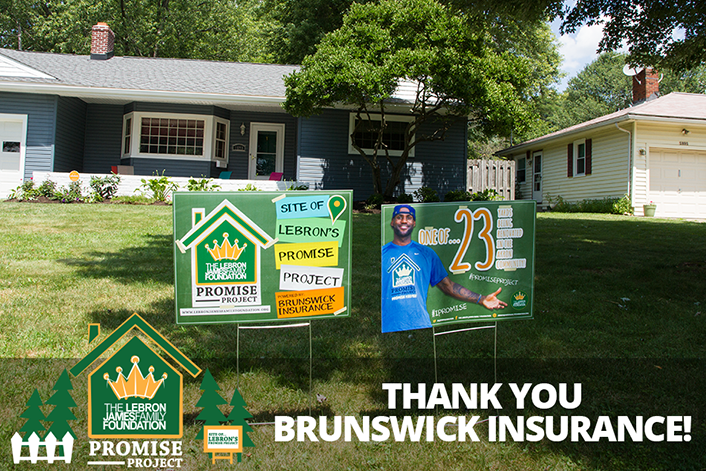 STVM was pumped to get started with their renovation. The team developed a very close relationship with the family and even the next-door neighbors. There was a certain addition that immediately caught the eye of any passerby. It was the lime green paint job on the front door, by request of the student's mother, which popped with vibrant color. In their words, it added some "sass" to the house. Once we arrived for our visit, the hard work had been completed and the family was enjoying their renovated yard and relaxing on the front steps, while the kids played on the inflatable obstacle course and mini basketball hoop that Little Tikes donated. It was exciting to see the aftermath of the PROMISE Project and a family enjoying the results of a long day of labor.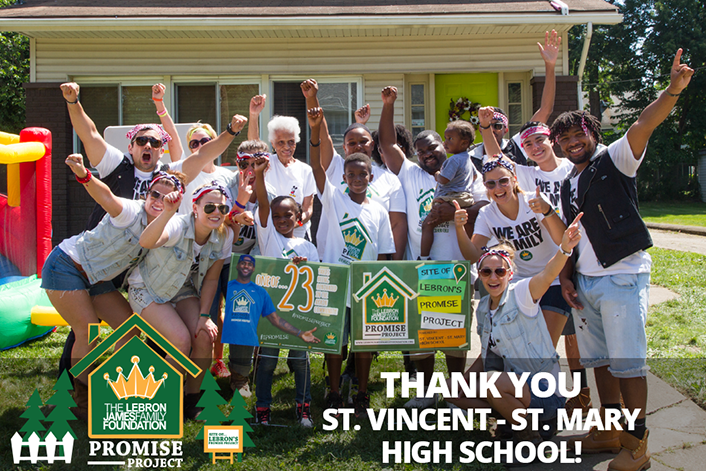 Akron General's second yard of this year's PROMISE Project was just as outstanding as their first! They were hard at work and their family was very gracious. Brunswick did a tremendous job with their house, with the lawn looking spotless and the addition of new chairs to the front porch.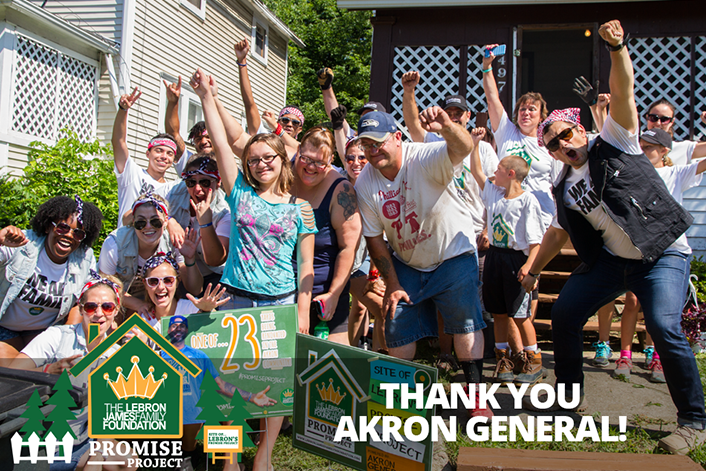 There was quite the set-up at Thomas Limo's house. Thomas Limo, having worked with our Akron I PROMISE Network (AIPN) students in previous years, transporting them to outings and other events, took a special interest in the project. The house was located on a main road, so they had city workers block off the side of the street with cones allowing vehicles easy access to the house. Thomas Limo had plans for much more than just yard work. They repainted the house, installed a fan on the front porch, and even cut down a tree. Thomas Limo's AIPN student, Adrianna Stephens, earned perfect attendance this past year. For her amazing efforts, Mr. LeBron rewarded her with $1,000 worth of gift cards for groceries. The gift was given with a letter from one Akron kid himself to another, and we could not be more proud of Adrianna. These four partners made four lucky Akron families very happy on a beautiful summer Saturday.