PROMISE Project Take 2 | Week 3 Part 3
Akron Public Schools, JPMorgan Chase, and Squire Patton Boggs close us out in the final hours of PROMISE Project Take 2.
Akron Public Schools (APS) had two yards that they worked on this year. Their first location was the team's very first stop of the day. The APS team was hard at work with quite the collection of helping hands. A fellow Akron I PROMISE Network (AIPN) student and some of the 330 Ambassadors showed up to help renovate the yard.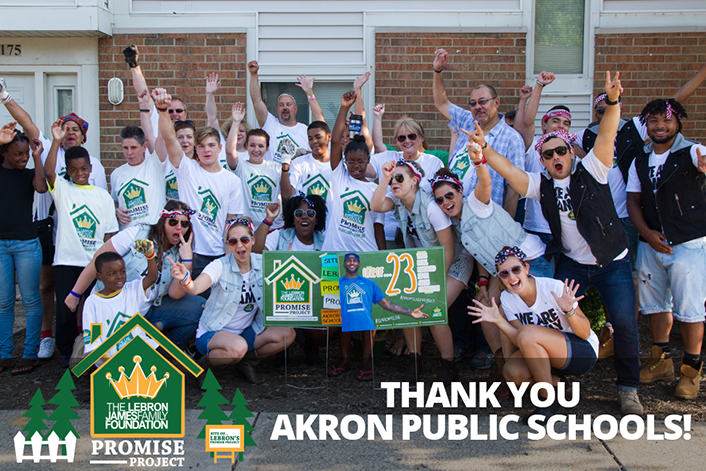 At the second location we ran into the special circumstance of having a house with twins who are both entering AIPN. It was great knowing that this project would benefit two persevering AIPN students, even though only one was randomly selected.
JPMorgan Chase had two yards as well. At the first one, there was painting being done when we arrived. The family was very appreciative and told us how much their son has benefited from the program and developed a love for school. As we drove up to the second yard it was hard to tell which one it was. There were crews doing yard work at two different houses that were right next to each other. We picked out which one had our signs up front, of course, and inquired about the other yard.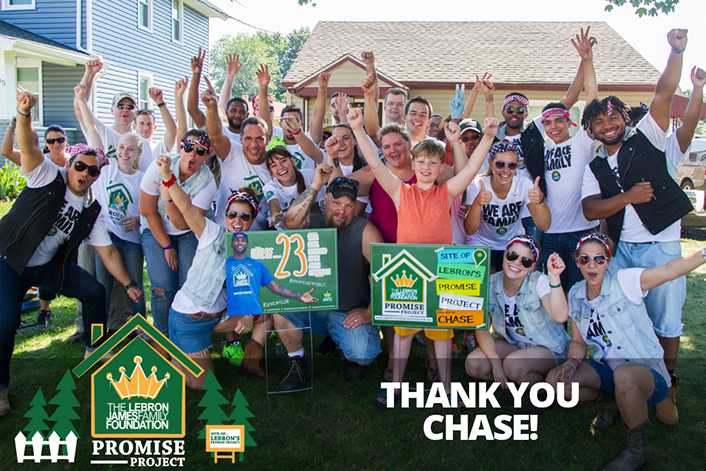 The team had split up and went next door to renovate the yard of a widow who came over to voice her pride and admiration for the good work LeBron has been doing for the community and specifically for his Foundation kids. What a way for Chase to make great use of their extra supplies and manpower! Last but not least, our final stop for the project was at the Squire Patton Boggs yard.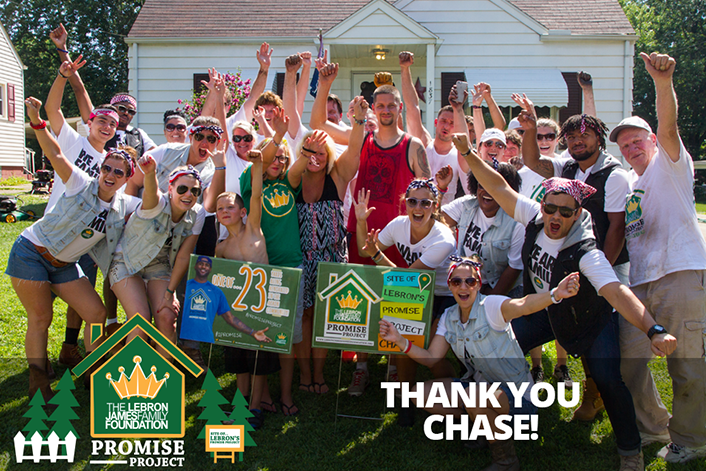 It was unbelievable the amount of work they were getting done. Earlier in the week, the Squire Patton Boggs team had asked if we recommended any construction companies for them to hire for their project. With no hesitation, even though we had no idea what they had in mind, we told them Metis Construction, who played a huge part in our PROMISE Project house renovation one year ago. As we pulled up, the first thing that caught our eyes was the extensive brick pathway that was in the process of being put together. While the Squire Patton Boggs team was busy working on the lawn, the Metis team was working on projects all around the house, with the walkway being their main focus. It was impressive the amount of tasks that were being completed. It was an awesome way to close out the PROMISE Project.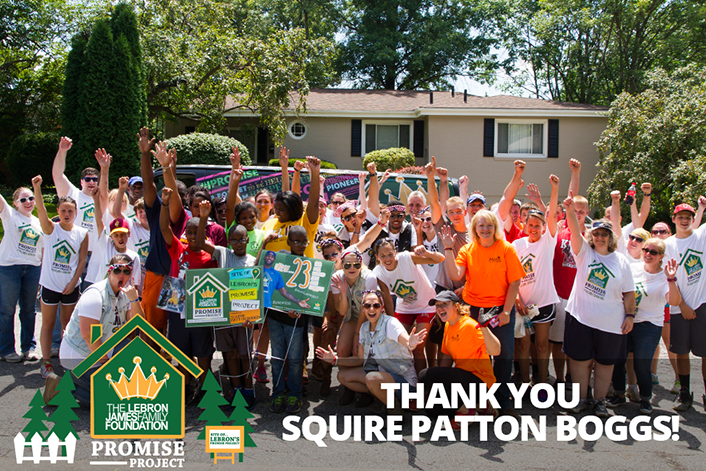 There were three perfect attendance students that were paired up with this group of partners. Two were with APS, Camaysha Young and Julia Subba. They were at APS houses one and two, respectively. The other was Isaiah White with Squire Patton Boggs. LeBron took notice of each student's efforts in earning perfect attendance for the school year and rewarded them with $1000 worth of groceries in gift cards that was presented with a letter from Mr. LeBron himself. However, once again, Squire Patton Boggs went the extra mile. After a very emotional presentation of the letter and gift cards from LeBron, Squire's team gave Isaiah a customized Cavs corn hole set, his favorite game, and a Matthew Dellavedova signed picture!
The third weekend of PROMISE Project topped everything off with a bang. Not just because we knocked out about two thirds of all the yards in one day, but also because of the amazing people we met along the way and the extra personal touches our partners were adding to the houses. We are sad to see another PROMISE Project come and go, but we are overjoyed to leave our families with some beautiful yards. We want to thank all of our partners whohelped this year and we can't wait to continue to beautify Akron next summer!