What could be better than dinner and a concert on a Saturday night? A dinner and a concert with Mr. LeBron's Wheels for Ed (WFE) kids, that's what!
PASSION
LeBron's world was changed when he was exposed to the game of basketball. He found his life's passion. Each month during the school year, LeBron sends his Foundation to take a group of WFE kids and their parents on a monthly experience outing. His hope is that, much as he found a passion for basketball, his kids will find their passion.
On this warm April night, LeBron's kids experienced an incredible concert. Most importantly, they bore witness to a group of students whose passion for the steel drum rivaled LeBron's passion for the game of basketball.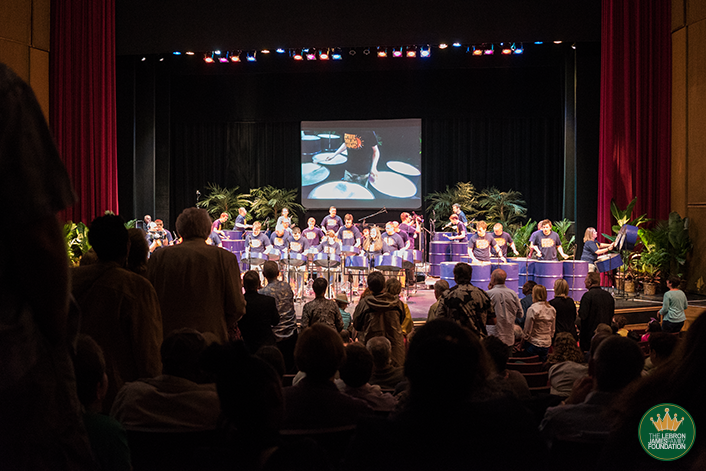 A VIP EXPERIENCE
Even though LeBron was in playoff mode, he made sure his kids were well taken care of. The day started when a Thomas Limousine bus pulled around the bend at Seiberling CLC. Trailed by the Foundation Mobile, the group, which included LeBron's WFE kids, their parents, and the Foundation Team, headed out to dinner. After they proudly recited the PROMISE, they received LeBron's marching orders, "Mr. LeBron wants you to order WHATEVER you want." Their young, wide eyes lit up at the sound, and order they did!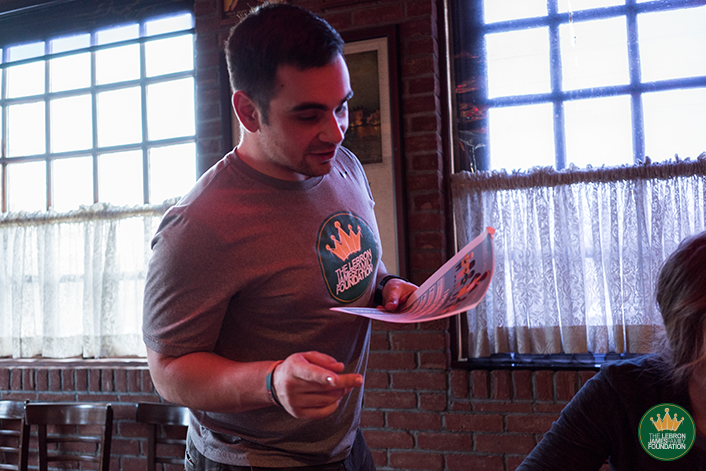 Spaghetti piled high with meatballs, fettuccini flowing with alfredo sauce, and chicken parmesan covered with pasta and cheese flowed from the kitchen as the group enjoyed a delicious family meal. As the conversation moved to basketball the group quickly came to a consensus: Mr. LeBron and the Cavs are going to win game one of the playoffs against the Boston Celtics. Of course, the most fervent support came from his WFE kids.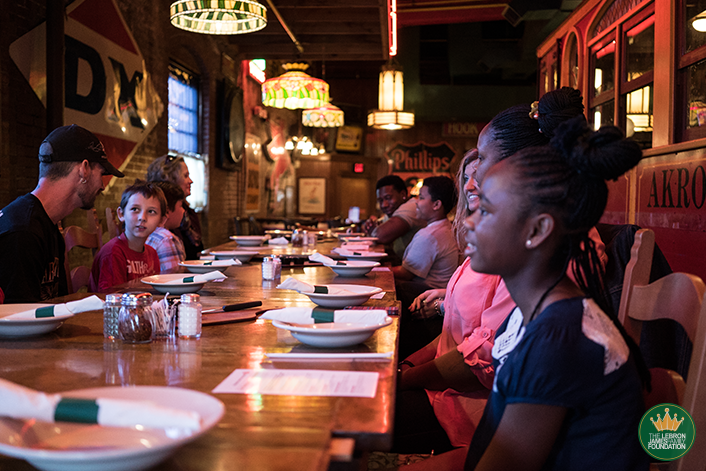 In true VIP fashion, the group left dinner and was dropped off at the front steps of E.J. Thomas Hall at the University of Akron. Foregoing all of the lines and parking madness that accompanied the sold out concert, LeBron's WFE kids and their parents were escorted straight to their seats in the middle of the orchestra section.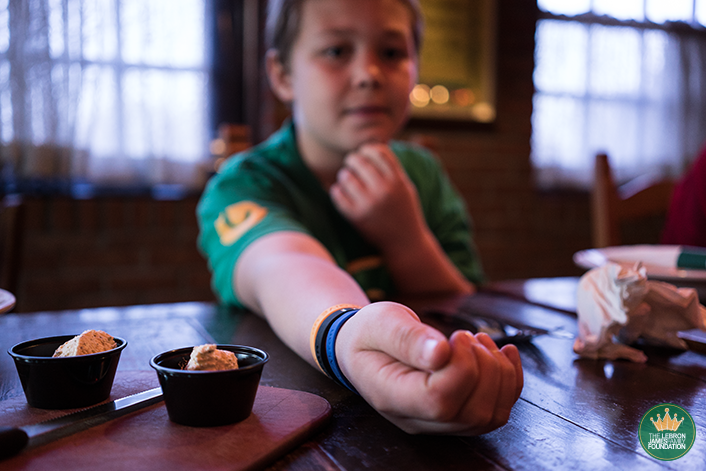 PAN-DAMONIUM
From the opening of the concert to their final encore, The University of Akron's Steel Drum Band's passion for their craft captivated the audience. Our kids bobbed and swayed as they heard ten incredible songs, ranging from Mozart to music from The University of Akron's own Matt Dudack, performed by over twenty skilled percussion students and one doctoral candidate from Florida State University, Mia Gormandy.
A trip to see the steel drum band on the eve of the Cavaliers first playoff game of the 2014-2015 season would prove to be fitting. As the University of Akron's Steel Drum Band would make sweet music on their steel pans, LeBron and his teammates would make sweet music on the court.
You can learn more about The University of Akron's incredible Steel Drum Band here.