In the middle of Goodyear's world headquarters in Akron, Ohio, 20 of Goodyear's racing factory workers sat restless. A group with over three centuries of collective tire-making experience, they found themselves in unfamiliar territory: at rest. Though near floor to ceiling windows peering out over brick roads outlined the room, the workers sat transfixed on the tasks they left behind.
"Alright, it's time to talk about how we can get more tires out of you," exclaimed Goodyear operations executive Billy Taylor. The room erupted; partially because of Billy's personality, but largely because of the improbability of his statement. Billy continued on, taking a more factual route, "I'm just kidding, your numbers are through the roof." This time, there was no eruption of applause. Save for the hum of executive suite air conditioning, the room fell silent. The pause gave way to a collectively unspoken retort, "Of course our numbers are through the roof, that's our job."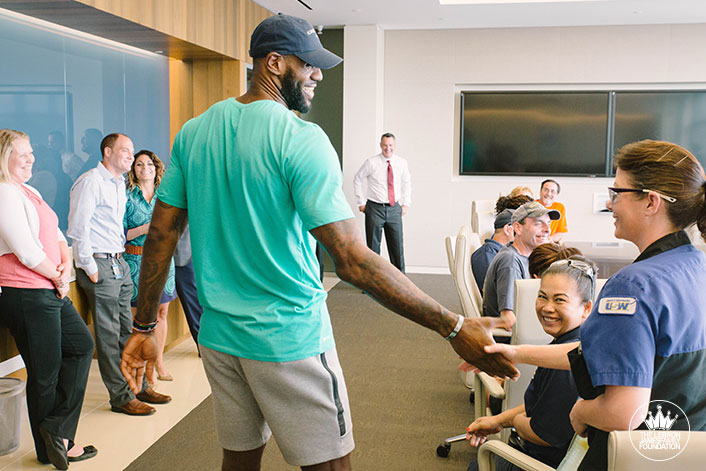 A walk onto the race tire manufacturing floor is a journey into the spirit of Akron. In these hallowed halls, which have produced racing tires for 63 years, nothing is given. Everything is earned. Void of excuses, they take their post. With their city's name and reputation on their shoulders, they have proudly emblazoned side walls with the famous gold tag: Goodyear. They work for what they have.
The room quickly filled with excitement as Goodyear IT executive, Sherry Neubert, spoke with the group about Goodyear's involvement with the LeBron James Family Foundation. Sherry, who is a member of the Foundation's LeBron Advisory Board: Community, was the catalyst behind this year's eighth grade experience outing to the blimp Hangar. A deep voice quickly sprung up, "My daughter will be their next year." Mike, a tire manufacturer with over a decade at Goodyear, is the proud parent of a seventh grade I PROMISE student.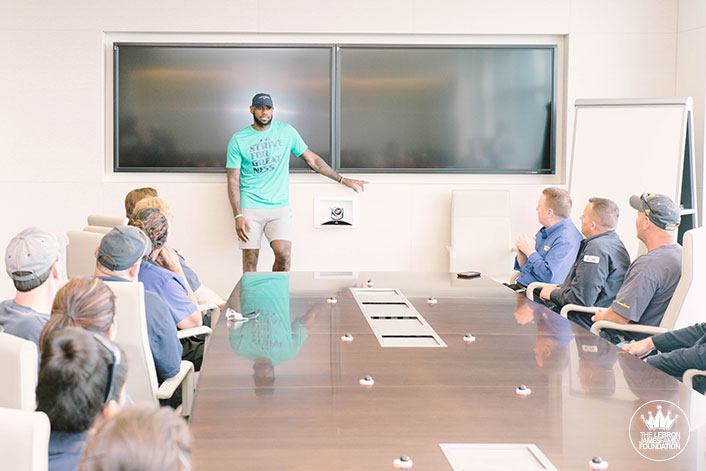 Goodyear's CEO, Rich Kramer, continued the conversation as he heaped praise on the group and lauded his team for their work with the Foundation. Keeping his remarks brief, Rich then opened the floor for a surprise guest: LeBron James.
As he shook hands with each of the workers, LeBron found his familiar role reversed, "I felt like a kid meeting my heroes."
As though he was amongst long-time friends, LeBron stood at the front of the board room's long oak table and spoke from his heart. "Being from Akron means something and that's because of you," he said with a humble pride. LeBron praised the group for being a symbol of Akron, "Coming from a place of hard working people means so much to me, [. . .] you guys represent every part of hard work." He concluded with a simple message, "Thank you for supporting my family and supporting my foundation."
We look forward to our continued work with our neighbors at Goodyear. You make us proud to say, "We are family.