Brass, strings, and shiny things awaited the students as they entered the lobby of EJ Thomas Hall. On this day, LeBron would share his love of music with his I PROMISE 4th graders by setting up a rare, hands-on experience with a live instrument "Petting Zoo" and an exclusive performance from the Akron Symphony. Opening their eyes and minds to the wide world of music, the students got to touch and feel and play the instruments, their eyes lighting up as many held a real instrument for the first time. Their day was complete with a reciting of their promise before the orchestra began to play a customized concert just for them. Another incredible first for many of the kids from Akron.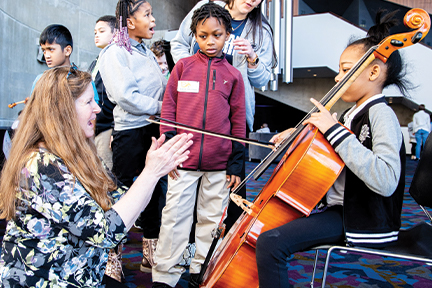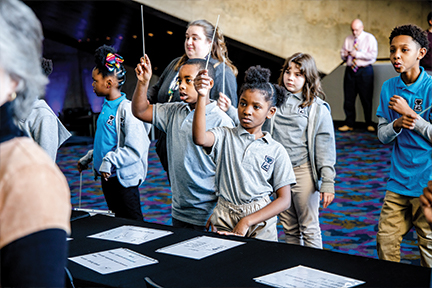 Meanwhile, back at the I PROMISE School, gym teacher and coach Daley took family engagement to a new level, spending one-on-one time with some of his students and talking about some of their favorites while getting their physical fitness on. The fun "30 Seconds With" feature is another way IPS staff can engage and interact with students in new ways. Stay tuned for more of these!
As the students and staff continue to work hard day in and day out, the Foundation continues to work hard behind the scenes to ready the 6th grade wing for our future upperclassmen. We can't wait for our IPS family to keep growing as we prepare for our annual expansion.
No matter what we do, we are always looking ahead at what else we can do to build on the supports we offer our school and our families. This is the work of our lives and we are honored to be on this journey with so many incredible people.