IPS Design Team
The Akron morning sun reflected off the industrial concrete floor, softly illuminating LeBron's path. He made the winding walk to his office as he usually does. Save for familiar handshakes and the surprise peek-a-boo scare (he's surprisingly cat-like for his size), there wasn't much fan-fare. Upon reaching his destination, the tall door leading to his office closed behind him with a solid thud. It was a typical summer Wednesday morning.
Hours later, amid the frenetic buzz of laughter and discussion, the tall door to LeBron's office opened. Bending to avoid the door frame, his broad figure hulkingly emerged. Captive for two hours, LeBron let out a grunt as he stretched his long frame, gingerly avoiding the freshly painted walls. "Man…" cut off by his own surprise, he quickly ducked into a nearby office. "Am I in trouble - who are all of those people?"
Peering through the blinds of an office, LeBron watched as countless educators, business leaders, and community members brainstormed ideas for the I PROMISE School (IPS). It was an IPS Design Team work day, and the office was packed.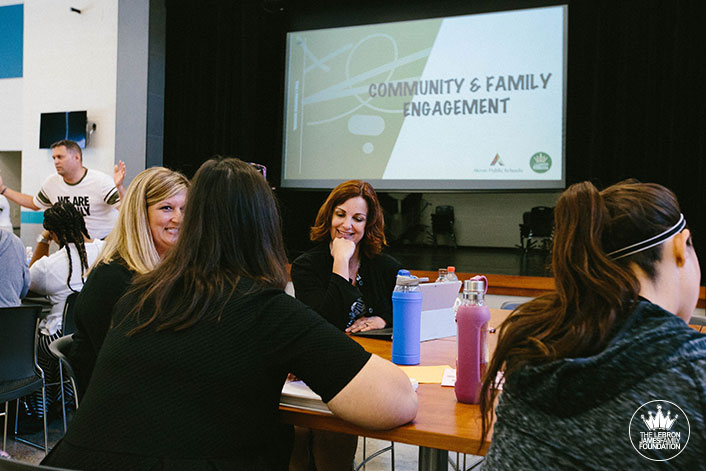 Quietly looking on from behind a computer screen, the interrupted Foundation team member softly replied, "I don't think you're in trouble, those are our [I PROMISE] school design teams."
Reassured, LeBron continued his path through the office where he greeted the Community and Family Engagement Design Team. With the group hardly breaking stride, LeBron left them to their work, only to find another assembly in the conference room.
In downtown Akron at the Akron Public Schools (APS) Ott staff development center, the typically uneventful pre-meeting setup was interrupted when LeBron flashed across their video broadcast. Making a quick appearance on the screen, LeBron waived, "Hey guys!" Sensing that there was serious work to be done, LeBron finished his march through the office. Walking out to his car, LeBron proudly said, "It's unbelievable to see all of those people working for our kids."
It's incredible.
Over 100 community leaders, business executives, educators, administrators, and experts have come together to form the design teams that will build and shape the I PROMISE School. Split into four categories, the blended teams meet and collaborate to create a foundational action plan for logistics, human resources and hiring, community and partner engagement, communications, and instructional frame work.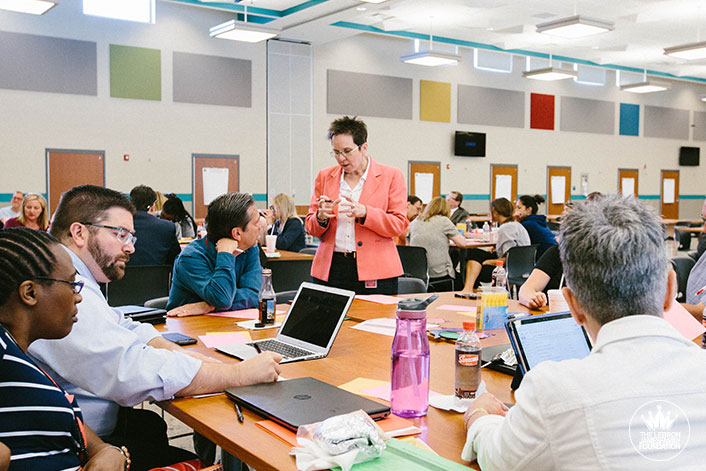 With a month of collaboration under their belt, APS Assistant Superintendent, Dr. Ellen McWilliams-Woods, convened the group for an action plan review and discussion. Led by APS and the Foundation co-chairs, each design team presented their work to date, shared their future plans, and received group feedback. Though divided into task-specific design teams, the group is working toward one collective goal: to create a home where the entire family is loved and students are educated for the 21st century so that they influence and improve our community, and ultimately change the world.
Design Team work concludes in August with a unified presentation to the APS Board of Education. Once approved, the IPS will have its district-recognized framework and the task of building the school begins.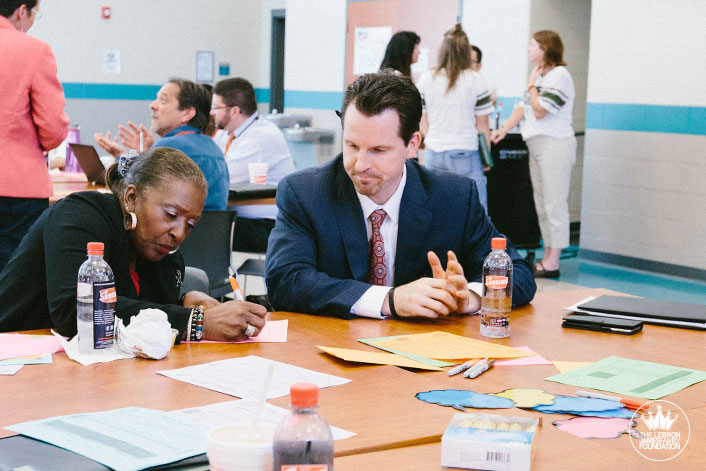 We extend a special Family thank you to everyone involved in the IPS Design Team process. Together we are changing the world, and for that, you make us proud to say, "We are family."