LeBron's Wingfoots Classic
The ever still glass doors of the student center's trophy case drew peculiar looks from bystanders as they began to rattle. Slowly, the rattling evolved into a melodic pulse. Inches away from the trophy case, inside the LeBron James Arena, a capacity crowd of nearly 2,000 fans were on their feet as the starting lineups of the women's basketball game were read. For four hours on Sunday, the LeBron James Arena in Akron was the home of high school basketball in America.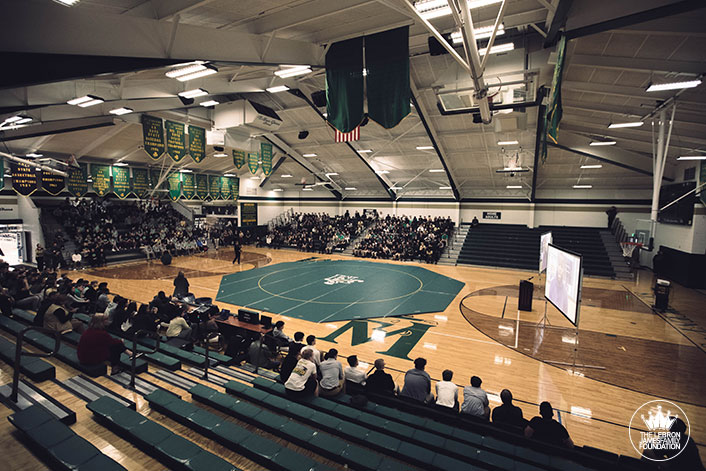 The journey began on Friday, December 1. As students at St. Vincent – St. Mary (STVM) and Stow-Munroe Falls (Stow) high schools packed up for their weekend, school administrators made an all-call announcement. STVM students poured into their gymnasium. Stow students huddled around phones and computers in their classrooms. LeBron had a message for them.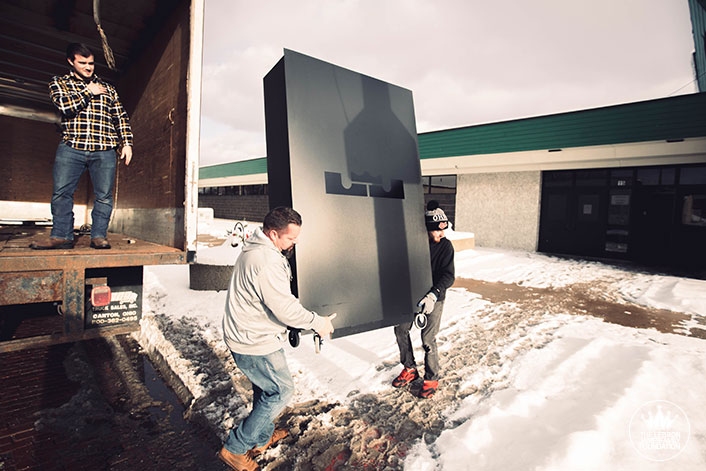 Though both student bodies knew their men's and women's basketball teams would face off against each other on December 17, they had no idea it would be for the title of "More Driven." In his UNINTERRUPTED message, LeBron challenged both schools: "I need the entire student body to be part of [the Wingfoots Classic]. Prove to me which school is More Driven."
The students erupted.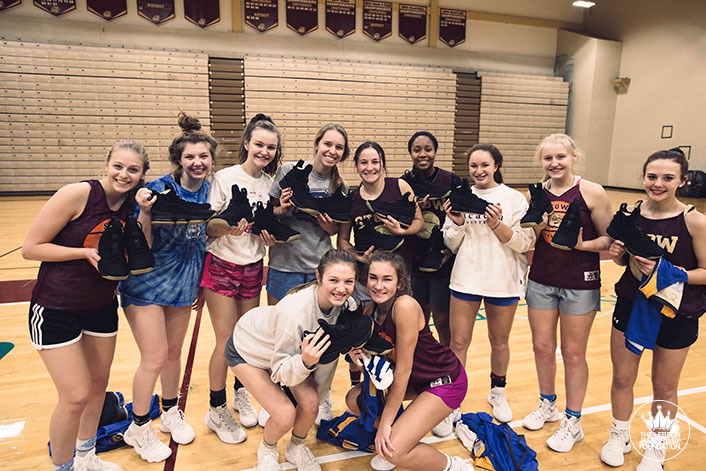 Replacing what had been the LeBron James Classic basketball tournament, the LeBron James Family Foundation Wingfoots Classic presented by Goodyear was a community challenge of school spirit, basketball, and community impact. Each school's principal had received a special package from LeBron earlier in the day – a $1,000 gift certificate to help the students deck their halls for the spirit challenge. After two weeks of tireless efforts, including all-night decorating slumber parties, both student bodies transformed their school's hallways, trading friendly jabs along the way.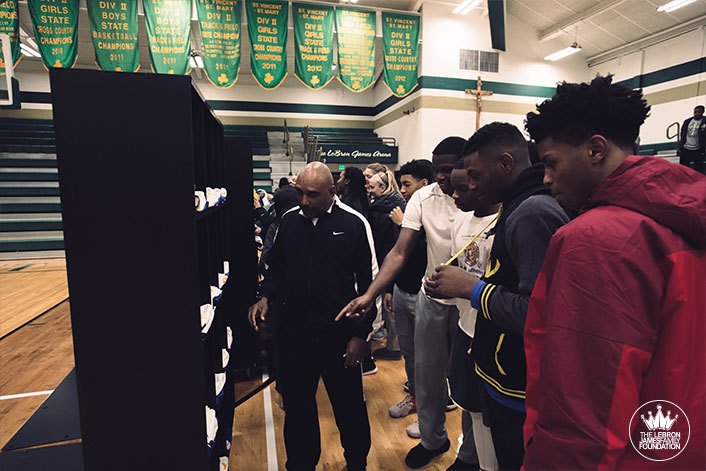 On Friday, both schools were paid a special visit by Goodyear's Wingfoots Classic Judging Committee. The judges were escorted through the schools in what felt more like a ticker-tape parade then a school day. At STVM, students drew on their connection to LeBron and passion for Akron. Across town at Stow, from kindergarteners to the superintendent, the entire community played a role. Stow won the first challenge.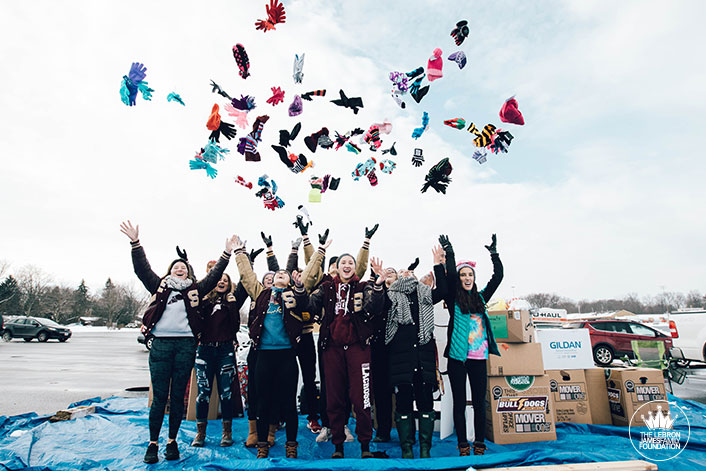 The students were back at it early the next morning for their Giveback Challenge benefitting the Foundation's I Promise School students. In the waning morning hours, a large white truck pulled up to each school and offloaded a large wooden crate. Affixed to the crate was a countdown clock that read 3:30 #MOREDRIVEN. Each school had three hours and thirty minutes to fill the crates up with as many pairs of gloves, hats, and winter accessories as they could.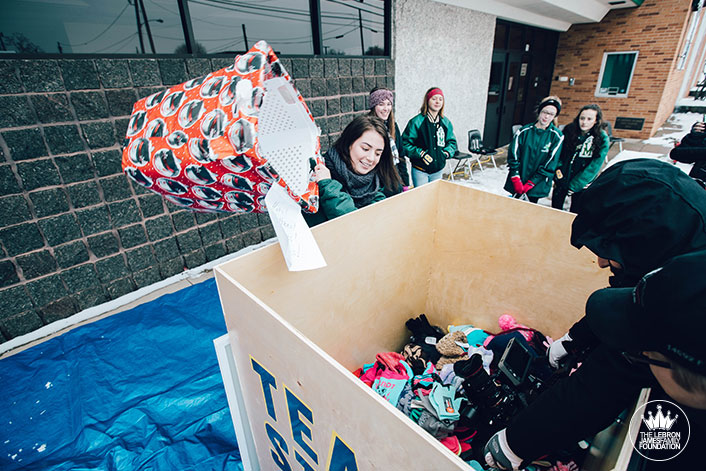 As car after car arrived at each school it became clear who the real winner would be: LeBron's kids. The passion from both communities overwhelmed the containers as gloves, scarves, and hats overflowed from the crates into makeshift boxes. Despite an impressive showing from STVM, Stow won the second challenge.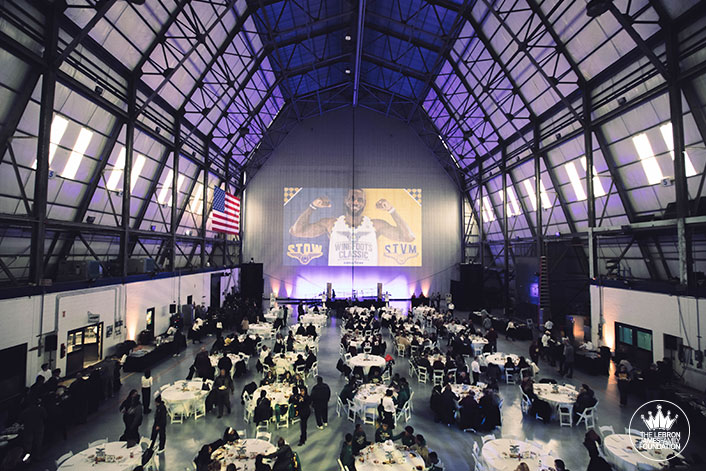 Gameday began as uniquely as it would end: with a never-been-done-before event. The Goodyear blimp hangar at Wingfoot Lake, which is the base of operations for Goodyear's Akron Wingfoot fleet, was transformed for a special community brunch. Rows of white tables sat underneath a grey behemoth. Although it didn't yet bare the distinct markings of its Wingfoot siblings, Wingfoot 3 looked majestically unmistakable.
The hangar quickly became a sea of maroon and white and green and gold as athletes, families, and community members from both schools filled the hangar.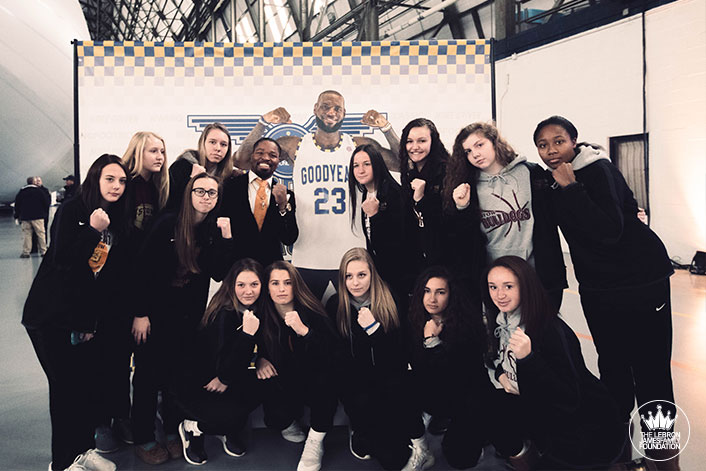 Though brunch was held at normal teenage sleep hours, the basketball players and cheerleaders were wide awake and ready to go – no doubt aided by the delicious food from celebrity chef, Michael Symon. As the brunch continued, guests were treated to a celebrity trifecta that only Northeast Ohio could pull together. Former ESPN anchor and Ohio native Jay Crawford joined Stow alum and former WBC Welterweight Champion Shawn "Showtime Porter" in addressing and inspiring the crowd. The brunch was capped with a keynote from local legend and I Promise hero, Goodyear's Will Waller.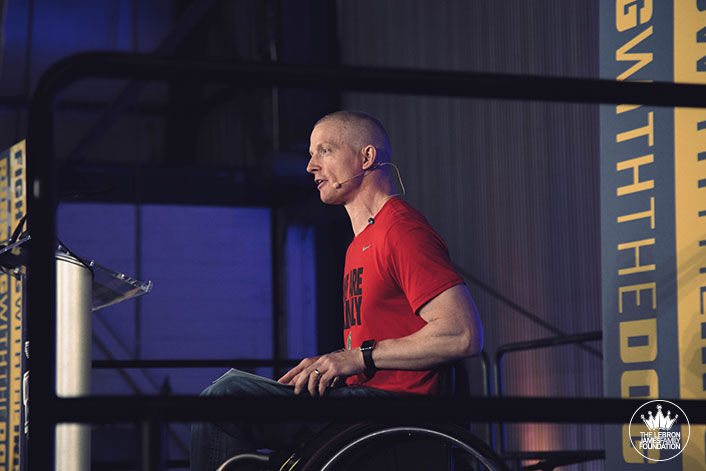 Today, Will is a human resources Vice President at Goodyear. Twenty-five years ago, on the north side of Chicago, he was the victim of a gang-related drive by shooting that left him paralyzed. Will implored the students to learn from his experiences by not letting circumstance effect drive and to carry their More Driven spirit beyond the day's game. It was a hit. For thirty minutes, the audience sat transfixed as Will spoke – no Snapchat and no texting, just wide-eyes and a long line of post-show handshakes.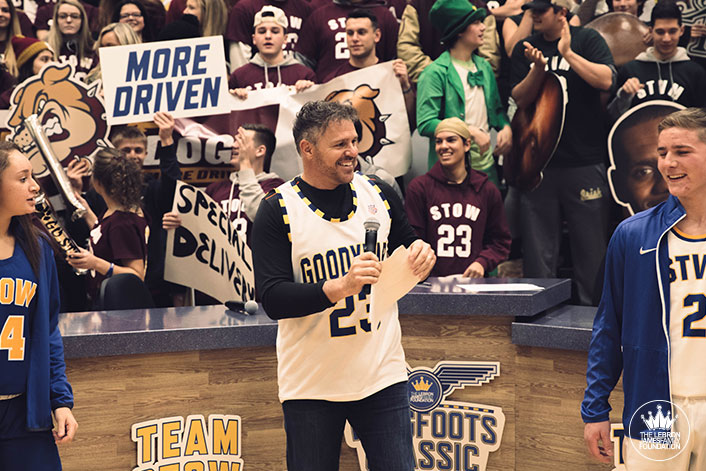 The brunch closed with a special video message from LeBron who echoed Will's challenge for their More Driven spirit to last beyond the day. And although he was in Washington D. C. to play the Wizards, his presence would loom large as both schools battled in the arena that built his dreams.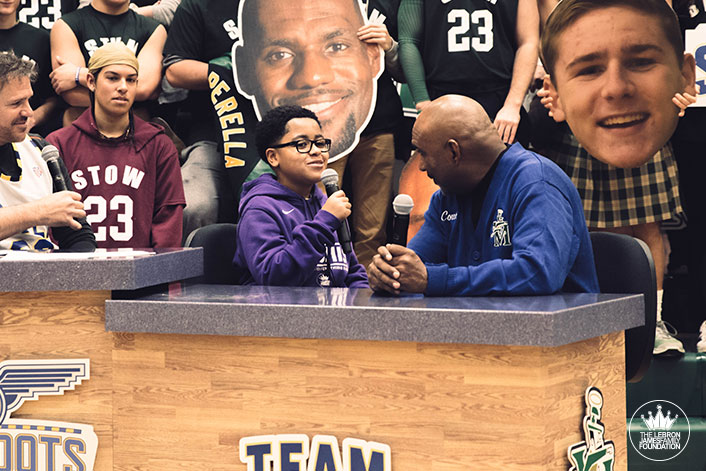 Both schools quickly made their way from the hangar to the LeBron James Arena at STVM where they filled the stands for the Countdown Classic hosted by Jay Crawford. In a scene that rivaled even the most rabid ESPN College GameDay segments, Jay sat at a news desk amidst a sea of raucous STVM and Stow students. Incessant dueling chants of "Here we go Bulldogs," and "Let's go Irish" were so long they delayed the start of the show.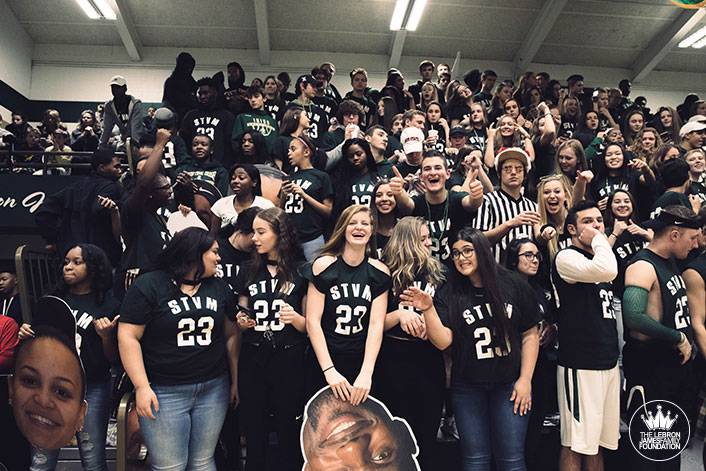 The calm which allowed Jay to officially begin was swiftly shattered when the team captains revealed their special, one-of-a-kind Wingfoots Nike tribute uniforms. Both teams traded their school colors to honor Northeast Ohio's basketball heritage by wearing the Akron Goodyear Wingfoots blue and gold. To put his stamp on the uniforms, LeBron gave each basketball player a pair of unreleased, all-black, Nike LeBron 15s.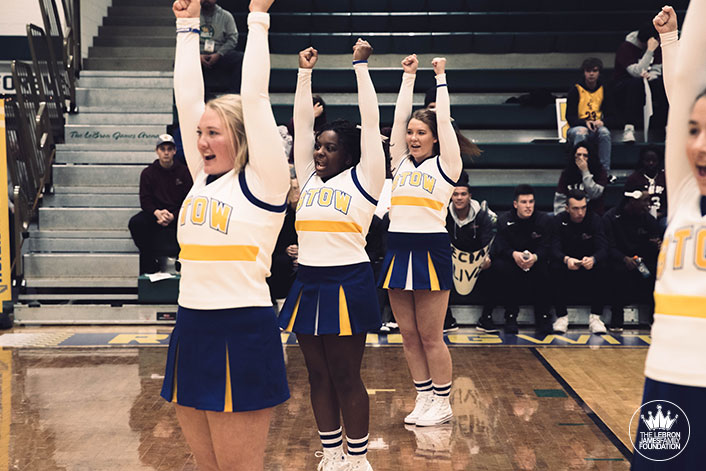 The countdown continued as Jay hosted the team captains and coaches, STVM Athletic Director Willie McGee, who was a member of STVM's National Champion basketball team, and Stow's Shawn "Showtime" Porter. Jay was joined a special guest host, I Promise Student Parson. Alongside Jay, Parson interviewed Stow's Coach Close, and STVM's Coach Joyce.
As the Classic Countdown ended, arena attendance swelled in anticipation for the kick-off of the girls' game and debut of both cheerleading squads. The girls stormed the court to a thunderous show of spirit that would not end until the game's final buzzer. Clad in Goodyear Wingfoots blue and gold, both teams traded buckets down the wire to the end the fourth quarter and propelled the game into overtime.
Though it seemed like the capacity crowd was in for a second period of overtime, the Stow Lady Bulldogs pulled away in the final seconds to win the game, 56-53.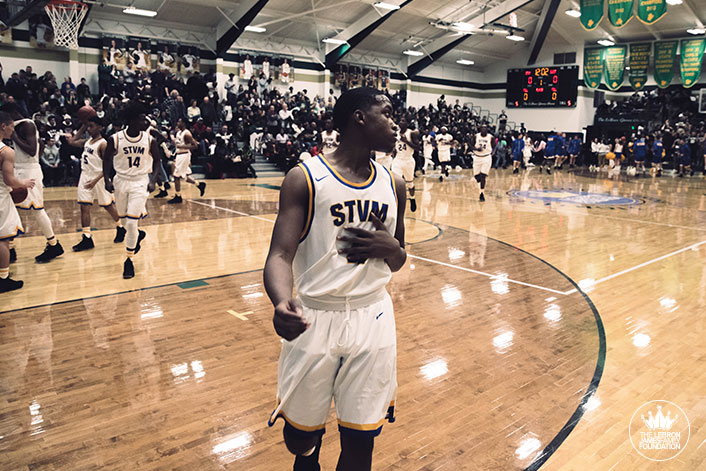 The men's game began, played, and ended nearly identical to the women's. After being tied at halftime, the Bulldogs and Irish traded baskets down to the wire. Drawing comparison to another high-flying kid from Akron, the game ended with an emphatic alley-oop dunk by Stow junior, Evan Bainbridge, putting the Bulldogs on top, 64-54. Students and players swarmed center court as the final buzzer sounded. Leaping into outstretched arms and cheering, students proudly hoisted the Wingfoots Classic Championship trophy. The Stow Bulldogs were victorious.
While Stow took home the grand trophy, the character and effort shown from both student bodies embodied Northeast Ohio's "Earned not given" attitude.
The Stow and STVM students make us proud to say, "We are family."