After six years, thousands of hours, interventions, and incentives, ten-years-worth of college scholarships committed, and countless encouragements and supportive touchpoints later, the LeBron James Family Foundation's I PROMISE Program has led to something bigger than anyone could have imagined.
Surrounded by nearly 100 of the Foundation's community partners and proud family members, today LJFF and Akron Public Schools (APS) announced a partnership to design a new Akron public school, called the I PROMISE School (IPS). While committees of local leaders, educators, parents and experts are currently forming that will determine many of the logistics of the new school, the proposed vision for the I PROMISE School is an expansion of APS curriculum with a STEM, hands-on, problem-based learning focus infused with LJFF's "We Are Family" philosophy to create an innovative and supportive learning environment for its students and their families.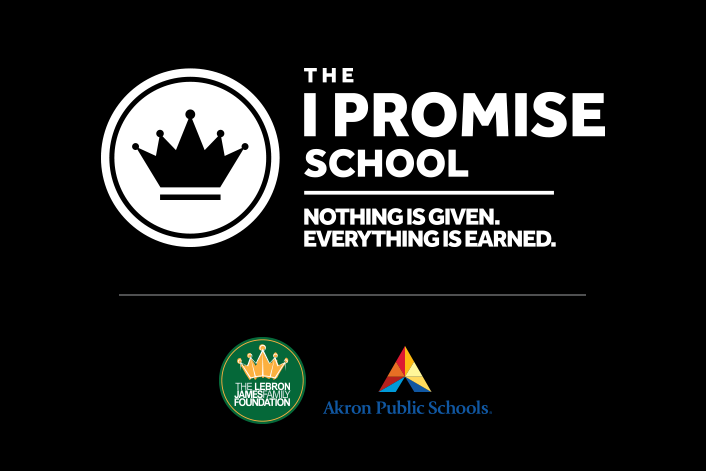 The targeted eligible population will be similar to LJFF's current students: students who are at-risk in reading and who are in need of additional academic intervention before falling further behind their peers. IPS will be for the students in Akron growing up like LeBron did. It will work to create a supportive and safe environment that provides infrastructure and stability so that learning can be the focus.
"This school is so important to me because our vision is to create a place for the kids in Akron who need it most – those that could fall through the cracks if we don't do something," said LeBron James. "We've learned over the years what works and what motivates them, and now we can bring all of that together in one place along with the right resources and experts. If we get to them early enough, we can hopefully keep them on the right track to a bigger and brighter future for themselves and their families."
Once the planning committees complete their work, they will submit a master plan to the APS Board of Education for approval in October. If approved, the I PROMISE School would open its doors in the fall of 2018 with newly identified third and fourth grade classes while adding first and second grades the following year. By 2022, the school will be complete with first through eighth grades.
As the culmination of many years of on-the-ground work and research-based interventions, IPS will take everything that's worked to motivate, educate, and inspire students in Akron and turn it into a brick and mortar school tailored just for them. It will be a place where students are supported and challenged. And it will be a complete wraparound for not just the child, but for the entire family.
Because in everything we do, We Are Family.
We look forward to working with the entire community to make the I PROMISE School a reality.