Kenmore-Garfield Girls Varsity Volleyball
With the dark gymnasium pulsating with curious energy, the high school students packing the stands fell silent with anticipation. As a single spotlight illuminated a figure at center court while members of team LJFF lined up beside him, his words slowly began to reveal the purpose of all the commotion.
"Today LeBron and our Foundation team want to recognize a group of individuals that is setting an example both on and off the court. From volunteering your time – whether through the NJROTC, student council, or other school opportunities – to mentoring incoming freshman and helping raise money towards student scholarships, the Kenmore – Garfield varsity women's volleyball team has excelled in competition while being leaders among their peers and displaying the selfless, positive behaviors all young students should emulate… And because everything in Northeast Ohio is EARNED, NOT GIVEN, your exemplary actions have earned your team brand new Nike uniforms to wear with pride."
And with that, the gym erupted with applause as the volleyball team rushed to check out their new gear.
LeBron hopes that as the Kenmore and Garfield families combine to make one, solid team, the volleyball players continue to be role models for unity and togetherness.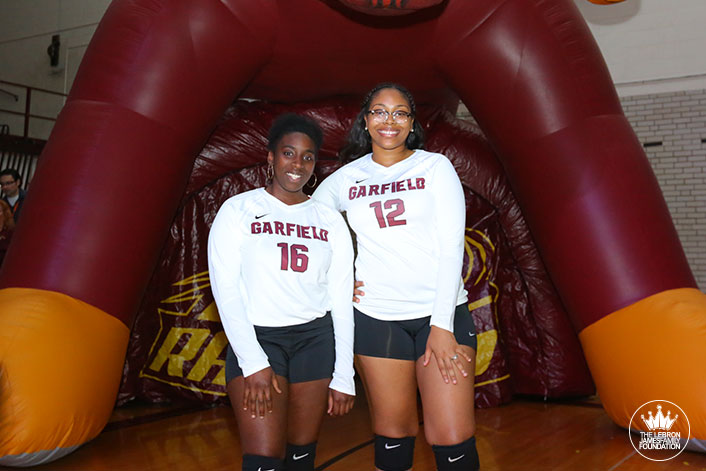 To date, LeBron and the Foundation have rewarded hundreds of Akron Public Schools students with brand new uniforms as a means to inspire more role models within the schools:
Kenmore Football
Garfield Cheerleading
District Soccer Coaches
North Track and Field
East Boys and Girls Basketball
Firestone Cross Country & Track
Ellet Wrestling
East JROTC
Kenmore-Garfield Girls Volleyball
In Northeast Ohio, nothing is given. Everything is earned. And these uniforms have been more than earned by the selected student athletes and coaches at APS.