FirstEnergy
One of the core missions of the LeBron James Family Foundation is to provide its Wheels for Education and Akron I PROMISE Network students with experiences that enrich their lives. These are events and outings that teach them, treat them, and inspire them to dream bigger than ever before. Ranging from an informational tour at a local company's headquarters to an exciting evening at the symphony, many Akron Public School students simply don't have access to these experiences.
But for LeBron's kids, anything is possible. And that's because he has incredible partners to help provide these engaging and enriching experiences for every class of his kids.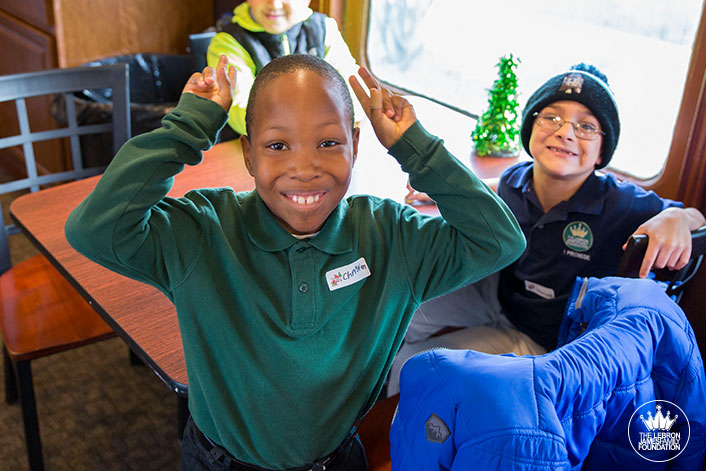 This December, 3rd grade Wheels for Education students will once again board the Polar Express and experience the magic of the holiday season in a whole new way. For the first time, the excursion will be courtesy of LJFF's local partner, the FirstEnergy Foundation. On The Polar Express Powered by FirstEnergy Foundation, LeBron's kids will get the VIP treatment with hot cocoa, fresh cookies, a special story reading, and Christmas carols as the train makes its way from Akron to the North Pole. With the Polar Express's cars filled with Santa's helpers, the students may even catch a glimpse of Santa himself at the end of the special journey. As the journey ends, each child will receive a hard-cover copy of the book, The Polar Express, courtesy of the FirstEnergy Foundation.
This magical experience is what the holidays are all about. And thanks to our partners at the FirstEnergy Foundation, LeBron's students will create childhood memories that will last a lifetime.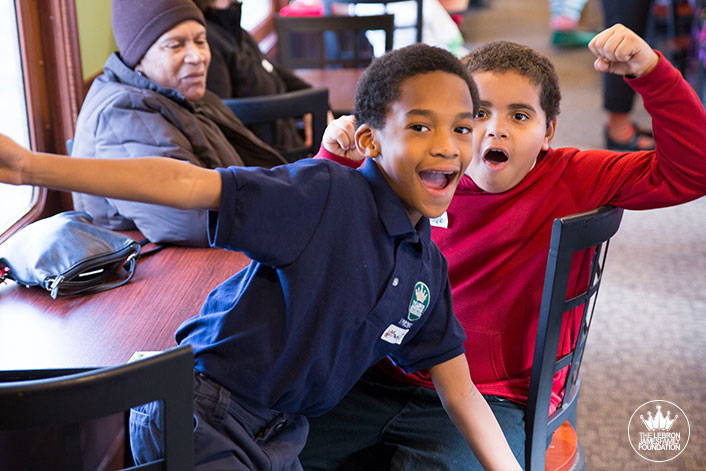 "The FirstEnergy Foundation is pleased to be able to help so many kids ride the Cuyahoga Valley Scenic Railroad's Polar Express, a local treasure that many might not get to experience otherwise," said Dee Lowery, president of the FirstEnergy Foundation. "This effort, part of a larger commitment by the LJFF to provide our school children a helping hand through graduation and beyond, matches perfectly our ongoing efforts to support building a strong, vibrant workforce for the future of our communities."
With the LeBron James Family Foundation committed to giving its students the support, resources, and encouragement they need to stay in school and achieve their dreams through higher education, these experiences are a big part of keeping its students excited and looking forward to their futures. The FirstEnergy Foundation is funded solely by FirstEnergy Corp., and provides support to non-profit, tax-exempt health and human services agencies; educational organizations; cultural and arts programs and institutions; and civic groups in areas served by FirstEnergy's 10 electric operating companies and in areas where the company conducts business. This makes the FirstEnergy Foundation a perfect fit to help bring these experiences to LJFF's students on their way to bigger, brighter futures in school and beyond.